Dog Day Care PLUS Training
EduCare for Dogs™ - Innovative Life-Skills Training for Dogs!
In 2010, Pet Behavior Solutions developed an innovative program called EduCare for Dogs™. This program combines fun and effective training, guided socialization, and safe, educational group play.
Dog owners recognize and appreciate the needs of their dogs. As owners have gotten busier, dog daycare has increased in popularity. Daycare can provide wonderful enrichment in a dog's life, but if not expertly run, it can also result in several problems. When dogs are left to play all day wildly without proper supervision and expert intervention, it can result in stressed, over-stimulated dogs, dogs with poor impulse control, and dogs who forget their "house manners." Often daycares have a large number of dogs in a relatively small environment. Good dogs can have terrible experiences, and shy dogs can develop aggressive behaviors in an overwhelming, chaotic environment. EduCare for Dogs™ addresses all of these issues!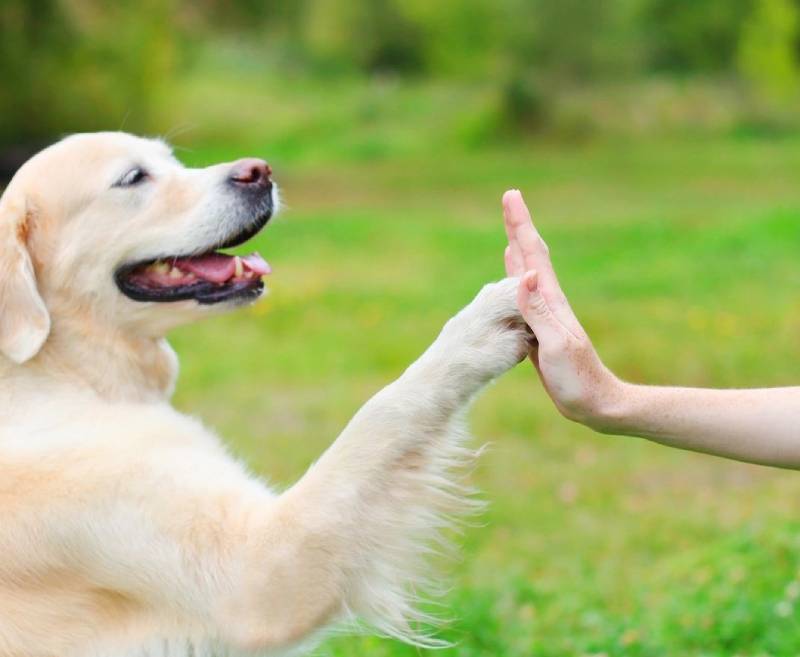 Top Four Benefits of EduCare for Dogs™
1. Dogs enjoy socialization, guided play, and interaction.
2. Our staff to dog ratio is a maximum of 8 dogs to 1 staff member (8:1). The industry recommended ratio is 15:1; most daycares are closer to 20:1.
3. In addition to teaching basic obedience, we have an innovative curriculum of training activities that teach problem solving, impulse control, and calm behavior, all in a non-competitive environment!
4. All activities and training are fun and educational for your dogs.
Why is EduCare different?
Because of our staff's highly trained behavior expertise and our staff to dog ratio (8:1), we can guide all interaction and socialization. We match dogs appropriately and stop or "cool down" rough or intense play.
Dogs are taught their basic obedience skills if they don't know them. These skills are utilized in our innovative curriculum of activities and games that teach problem-solving, encourage impulse control, and teach calm behavior... all in a non-competitive environment!
The activities are fun and educational. The extra obedience and manners training will work nicely for you in your home when you work with your dog!
How is EduCare different from other dog daycare facilities?
Dog daycare facilities allow dogs to play throughout the day.
Daycare facilities generally do not guide play nor ensure that play is a positive learning experience for each personality type.
Daycare facilities generally do not have any established educational curriculum and do not incorporate training or educational activities in their time with the dogs.
Which parents should consider EduCare for their dogs?
If you want your dogs to have a safe and guided outlet for their socialization and play with other dogs, then EduCare would be a good program for your dog.
If you want to fine-tune your dog's obedience and manners training, EduCare would be a great consideration!
If you want your dog to have a great mental outlet for the enrichment and mental challenges to match their breed instincts, high energy level, or keep up with their intelligence, then give EduCare a try!
What is the daily tuition?
Tuition is $110 per day per dog. (A transportation fee applies for our Scottsdale Campus, which includes bus fare.)
Can you leave your dog with us on a last-minute notice?
Unfortunately, no. We require regular enrollment either daily, weekly, biweekly, or monthly.
This is for two primary reasons: One, because we have very small class sizes, so space is extremely limited. Two, because there is only so much space on the bus and that does not allow for last-minute students.
Does EduCare offer group training classes with parents?
No. Our program is a daycare setting where the dogs are away from their families at our facility interacting with other dogs.
We work on their basic training in conjunction with our monthly curriculum.
Which dogs should NOT enroll in EduCare?
If your dog is not comfortable with nor good with other dogs either because he/she is aggressive or so fearful/uncomfortable as to impact his/her ability to learn or enjoy activities, our program would not be a good match for your dog.
No, we are exclusively a day program.
Do you work with dogs with behavior problems?